WWII Photos of the Sitka Defenses
These pictures are all courtesy of the Sitka Historical Society
3-inch anti-aircraft guns and their targeting system and the men who manned them. There were four of these guns on Sasedni Island on the causeway.
---
Army Barracks on Charcoal Island, Fort Ray.
---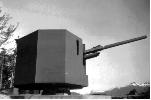 Here is one of the two fixed 90mm AMTB guns on Whale Island
---
One of the two Naval six-inch guns, given to the Army, and emplaced at shoals point in March/April 1942. These were emplaced in a hurry to protect the Naval Airstation while the 6-inch batteries on Biorka, at Shoals point, and on Makhnati Island were constructed.
---
The installation of the 6-inch guns on Makhnati Island.
---
Photos of construction for Battery 292 on Makhnati Island.
---
These are the Three Generators that Powered Battery 292.
---
155mm GPF guns on Makhnati Island.
---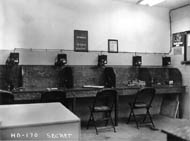 The telephone switchboard room of the HDCP/HECP headquarters bunker
---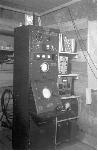 The radar console for the SRC582 on Makhnati Island
Back to my HOMEPAGE
These web pages and all images are Copyright 1996-2003 by Matthew Hunter. Click for more info.